We took the whole family to see The LEGO Movie last week & boy did we have a great time!
It was seriously the best family movie I've seen in years. Here's 10 reasons why The LEGO Movie is the best family movie of the year!
1: It's a multi-generational movie. My husband played with LEGO. I played with Lego. My son REALLY, REALLY plays with LEGO. We're a LEGO family.
We all enjoyed this movie together. Like doubled-over-laughing enjoyed it.
2: This is a gender-neutral movie. The lead is a boy, but the ACTION doesn't start until the girl gets there. And she doesn't sit in a castle, rubbing her minifigure claws together pining for a prince.
3: The cast. Chris Pratt from Parks & Rec plays the lead. Liam Neeson plays Good Cop/Bad Cop. Allison Brie plays UniKitty, a cat/unicorn combo, BECAUSE OF COURSE SHE DOES! The cast is amazing. Amy Poehler's ex-husband Will Arnett plays Batman. Nick Offerman! *forgets what she was saying, due to mustache-enduced swooning*
4: The movie was really clean. No sex jokes! Sometimes kids' movies try to appeal to adults by adding innuendos. I hate that. Stop it. If you can't go 90-minutes without a sex joke, you need to reevaluate things.
5: The references! There's a reference in this movie for everyone. From riffing on LEGO series that didn't take off, to history, to pop culture over the last 40+ years, to super heroes, to HARRY POTTER REFERENCES…
6: The music, by Mark Mothersbaugh, of DEVO or Rugrats fame, depending on your age, sticks in your head in a cute, chipper, inside joke way.
You could say it was AWESOME.
7: The morals: You don't have to follow the directions. In fact, life's more awesome if you don't.
Secondary moral: Mom? Dad? Relax. Let your kid's imagination guide you. Don't be a Micro-Manager. (My husband & son would've rather the movie didn't have the sentimental live-action part of the story, but still loved the movie.)
8: The details. The movie is made up of… Lego parts! The whole hour & a half, my son was squinting at the screen, deconstructing how they were making it happen. The muzzle flash when they fire their blasters? It's the 3-prong flower stems (Part 3741!). My first comment leaving the theater? "We're going to have to buy that, so we can pause it 100,000 times, because I did not catch everything!"
9: The LEGO Movie celebrates creativity. It sparks it. It ignites it. It causes hours of quiet play on my livingroom floor, creating: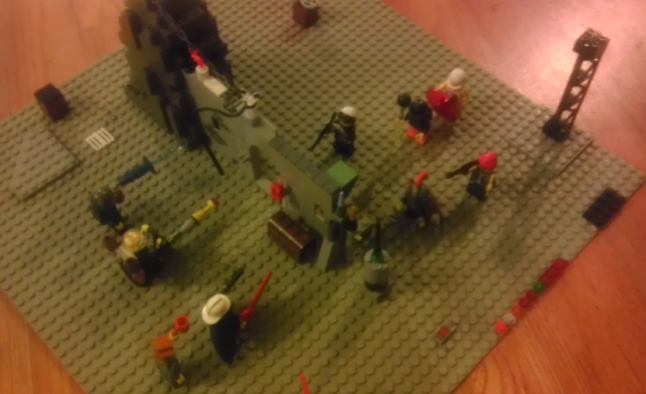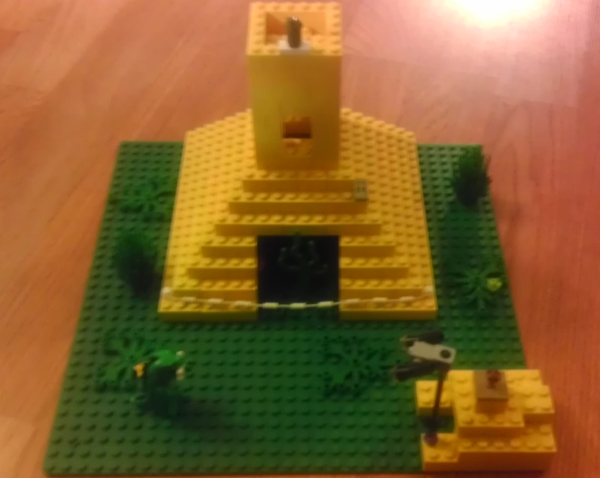 10: The reason The LEGO Movie is the best family movie of the year is that it's been weeks since we watched it & we're still talking about it, playing out scenes from it, giggling at the jokes, and singing EVERYTHING IS AWEEESOMMMME! The online hype wasn't wrong this time. Yeah, it's a great big ad for LEGO & the kick-butt girl character is a bit of an angry-girl trope, but she's still head & shoulders above what they could've done with her. It brought us together & I heard somewhere that everything is cool when you're part of a team. 😉