I've started playing with watercolor paints.
For this first one, I gathered fall leaves & traced them directly onto 8″x8″ watercolor paper. The small size really appeals to me just starting out, because it isn't a huge commitment. I actually used Roseart watercolor paints for this. I enjoyed how easy they were to blend.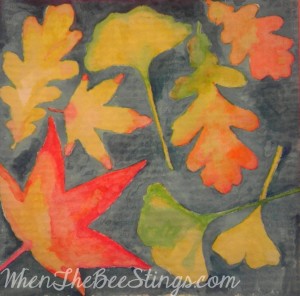 For this one, I used a photo of poppies as a reference. Poppies are great for beginners, because their shapes are so fluid & forgive a lot of mistakes.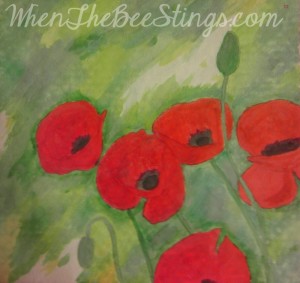 I used a different set of water color paints for this one & was frustrated the entire time. I bought them at Joann Fabrics & Crafts & they were so terrible. The didn't dissolve at all & there were chunks of filler in the pigment. It was very frustrating, considering I thought I was moving up a notch by buying something other than RoseArt. I have since been given some nicer watercolors!